[giaban]Giá: Liên hệ[/giaban]

[hinhanh]

Giá: Liên hệ
Xuất xứ: Korea
Click on image to view large image
Bảo hành: 12 tháng
[/tomtat]
[kythuat]
Công ty Pitesco là nhà XNK hàng đầu và là nhà cung cấp chuyên nghiệp các mặt hàng tự động, thiết bị điện và điện công nghiệp. Chúng tôi đáp ứng mọi xu hướng công nghiệp hóa, hiện đại hóa cũng như mọi lĩnh vực.
EVC10 is

electronic control device which is especially designed for
control and management of electronic expansion valve in cooling system.

EVC10 is composed of controller module, pressure sensor,
temperature sensor and electronic expansion valve and can be used for
Refrigeration and air conditioning, heat pump, show case etc.
because of its precise control function.

■ Features
- superheat PID precision control
- control open ratio which is setup by user
- for various refrigerant (R22, R134a, R404a, R407a, R717, R23)

EVC10 supports nearly all electronic expansion valve including SAGINOMIYA, FUJIKOKI, SANHUA,
JAHWA, GREEN etc. (Uni-pola type can be all supported) and is easy to interface with other
devices due to RS485 communication.
■ Specification
- Power : AC24V +10%/-15%, 50/60Hz, 1A (including power consumption of valve)
- Control mode : superheat automatic control mode of step motor type electronic
expansion valve using PID control algorithm, manual open ratio control mode
- Connector : connector (MAKER: JAPAN SOLDERLESS TERMINAL,
HOUSING: XHP, CONTACTOR: SXH-0011-P0.6)
- Valve : UNIPOLAR STEP MOTOR TYPE, MAX. 70mA
1-2 or 2 Phase Drive, 100 ~ 9000 Pulse, 10~500 PPS, 1/1000 CONTROL
- Operation : Temp. -10~50℃ (when no dew condensation)
- Storage : Temp. -20~60℃, Humidity Under 90%RH
- Sensor
- Pressure sensor (-0.5~4.5V:5V power)
- Temperature sensor (NTC5Kohm)
■ Accessory Information Specification
- Power trans : 24069241
- Connection kit : CK3200
- Pressure sensor : DP512-G7
- HOUSING:XHP, CONTACTOR:SXH-0011-P0.6)
- Temperature sensor : DPR-TH1-ET*3m-C1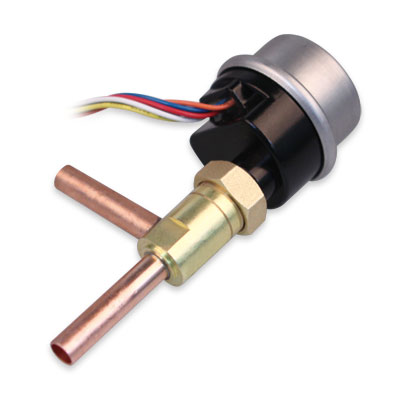 [/kythuat]
[mota]
Catalogue
[/mota]